stories
A Photography Challenge to celebrate 150 years of Levi's 501
editorial
fashion
vogue
One and a half centuries, or 150 years, is a significant period of time, which is exactly how old the famous Levi's 501 jeans are. This clothing item was born in 1873 after the Rivet Patent, which led to the invention of blue jeans by Levi Strauss.
To commemorate this milestone, Photo Vogue and Levi's have launched a creative competition, challenging artists, photographers, and filmmakers to answer the question: What do Levi's mean to me?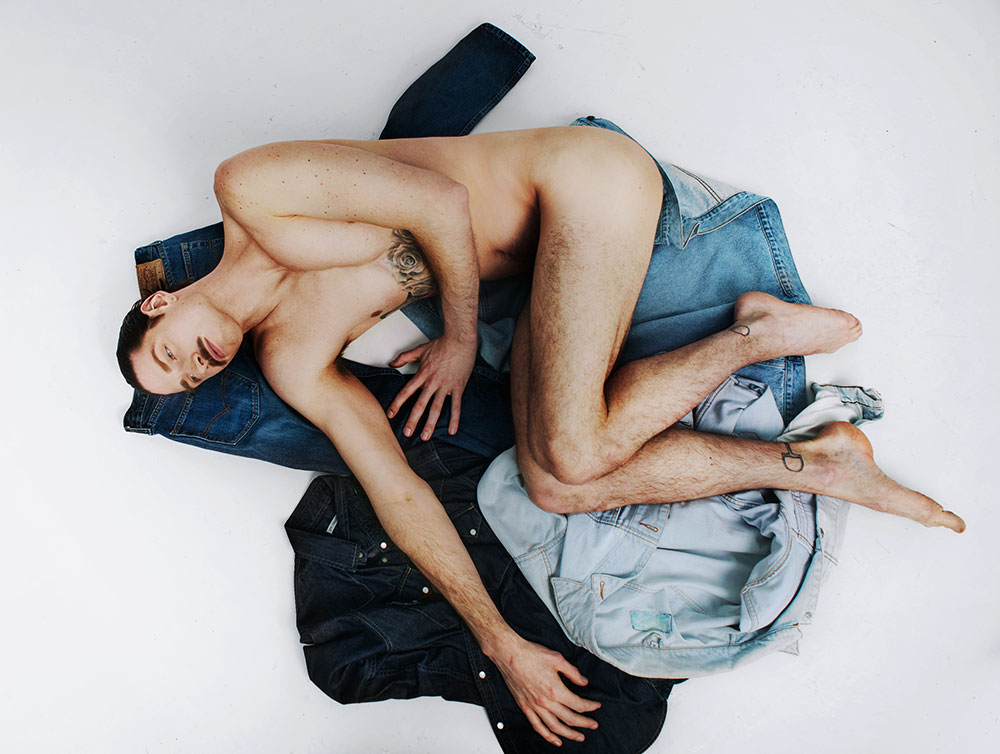 Photo Title: The birth
The Photo Story
How often do I wear jeans on a daily basis? Upon reflection, I have realized that I wear jeans almost every day. It's my preferred fashion choice for daily wear. There are times when I even fall asleep in my jeans, and moments when I step out of the shower to find a pile of jeans on my bed. Sometimes, I even change my jeans multiple times a day, either because I feel like it or because I want a different color.
Undoubtedly, jeans are an essential part of my wardrobe, and I believe that many others can relate to the close connection we have with them.

All of this is conveyed with a playful wink, jeans do not have to be worn in a conventional manner.


In this photo series, I explore my deep connection with jeans, portraying it as a ballad between the individual and the jeans themselves, which take on their own personality throughout the story. The person in the series embraces the jeans in a sculptural manner, where only the body and the jeans are together. This intimate relationship is the central focus of the story, and nothing else is more important.
From the beginning, the series follows the birth and the connection, showcasing its diversity, the ups and downs and moments of relaxation. The story culminates in a final powerful image, where both the individual and the jeans are perfectly aligned, representing the ultimate harmony of this intimate relationship.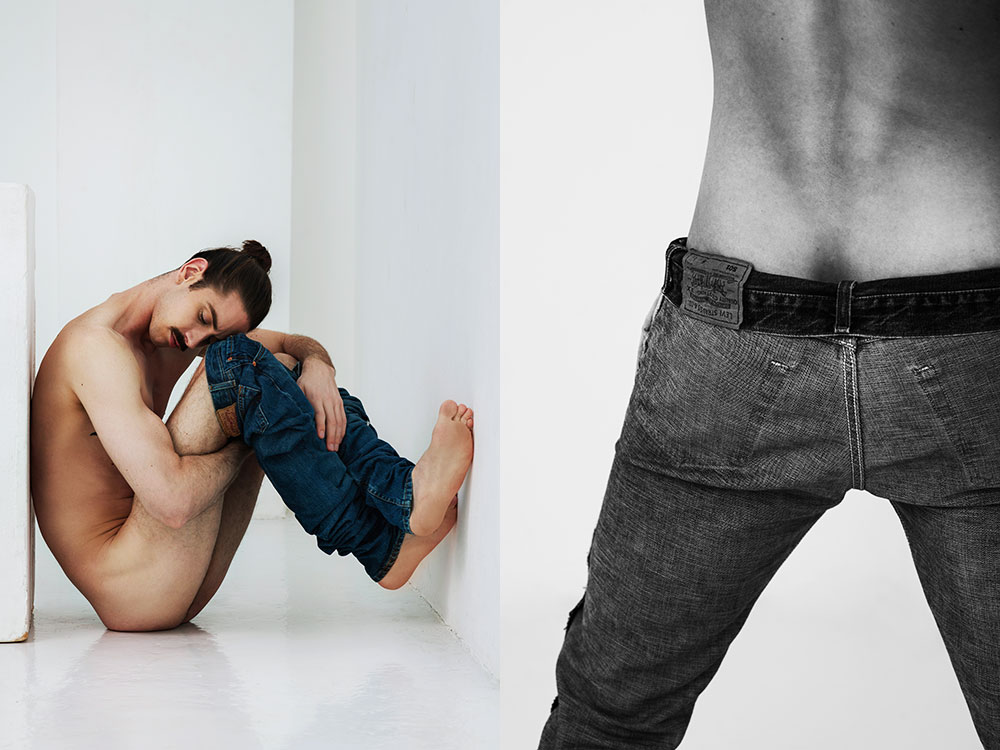 Photo Titles: left: Connection, right: Diversity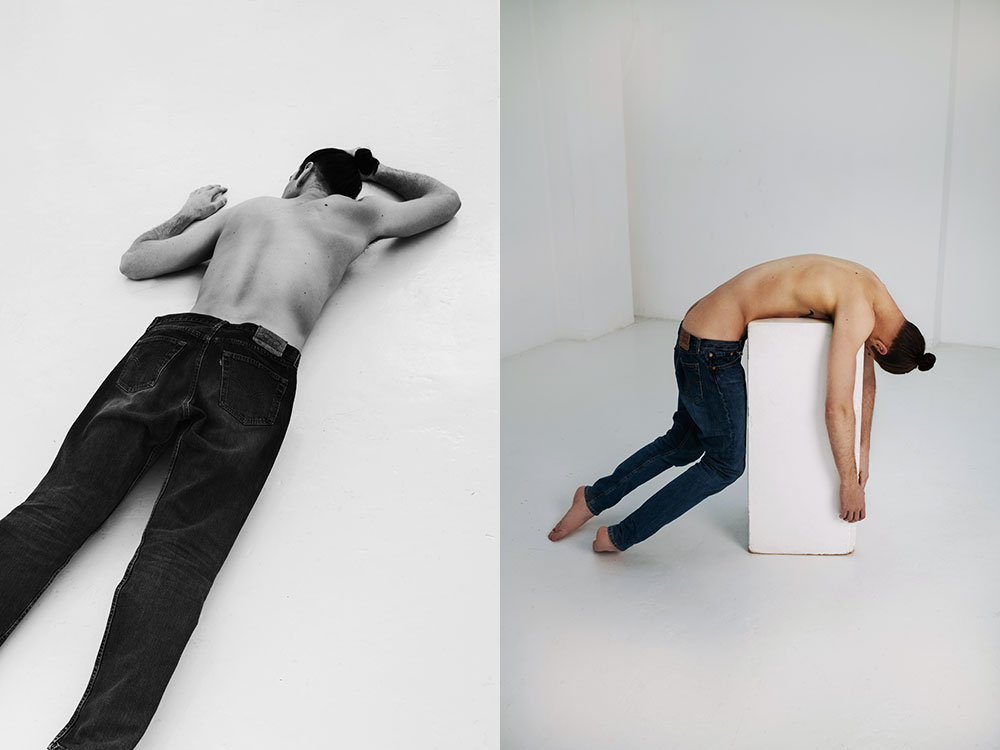 Photo Titles: left: Relaxation, right: Wrapped down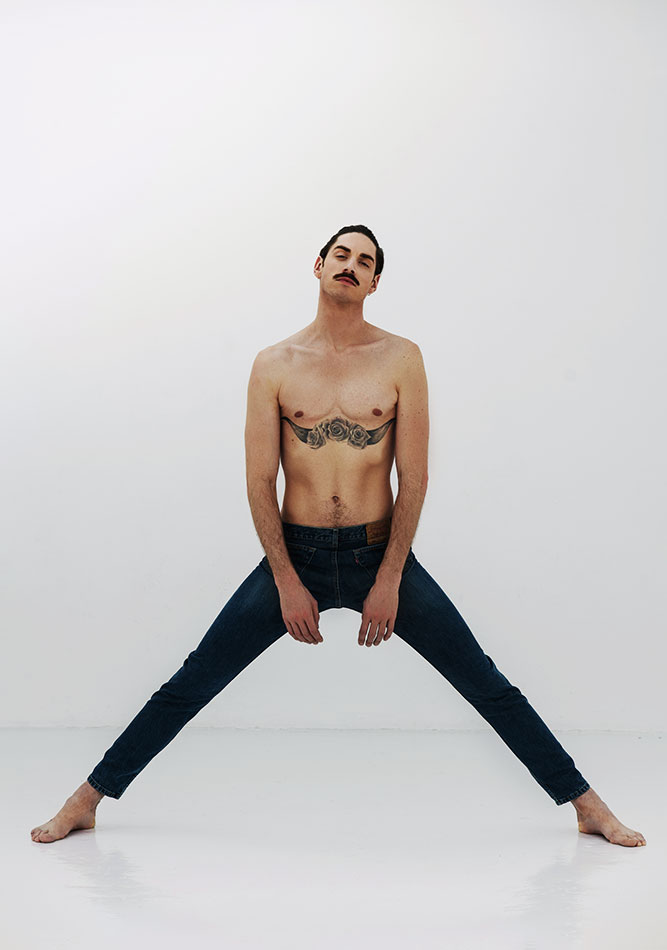 Photo Title:The strong force
I believe that jeans are more than just a piece of clothing; they are a cultural icon that has evolved over time, representing different styles, trends, and values. Through this photo series, I aimed to capture the deep connection that many of us have with jeans and how they become a part of our identity and self-expression.
To conclude this story, I want to pose the following questions to you, the reader:

1. What do you think about this photo series?
2. What is your relationship with jeans?
3. And which photo from the series resonates with you the most?
So, I invite you to share your thoughts and experiences with jeans and explore which photo from the series speaks to you the most.
This photo serie was made possible in collaboration with model Maxim Claude and photo studio Studio 13 Amsterdam.
Get Unique Photos for your Brand
With a strong portfolio and technical expertise, I am specialised in creating stunning fashion art photography that will showcase your brand and help you express the voice of the brand in a beautiful and artistic way. Let us work together to bring your creative vision to life.