stories
Landscape Travel Photography in Normandy with my Fuji X100
art
travel
landscape
In my previous story, I mentioned my Fuji X100F camera, which I take with me everywhere to capture all the photography and stories that are less orchestrated. This year, when going back to the French coastal area of Normandy for a long weekend with Ceren, I only brought my X100 camera with me.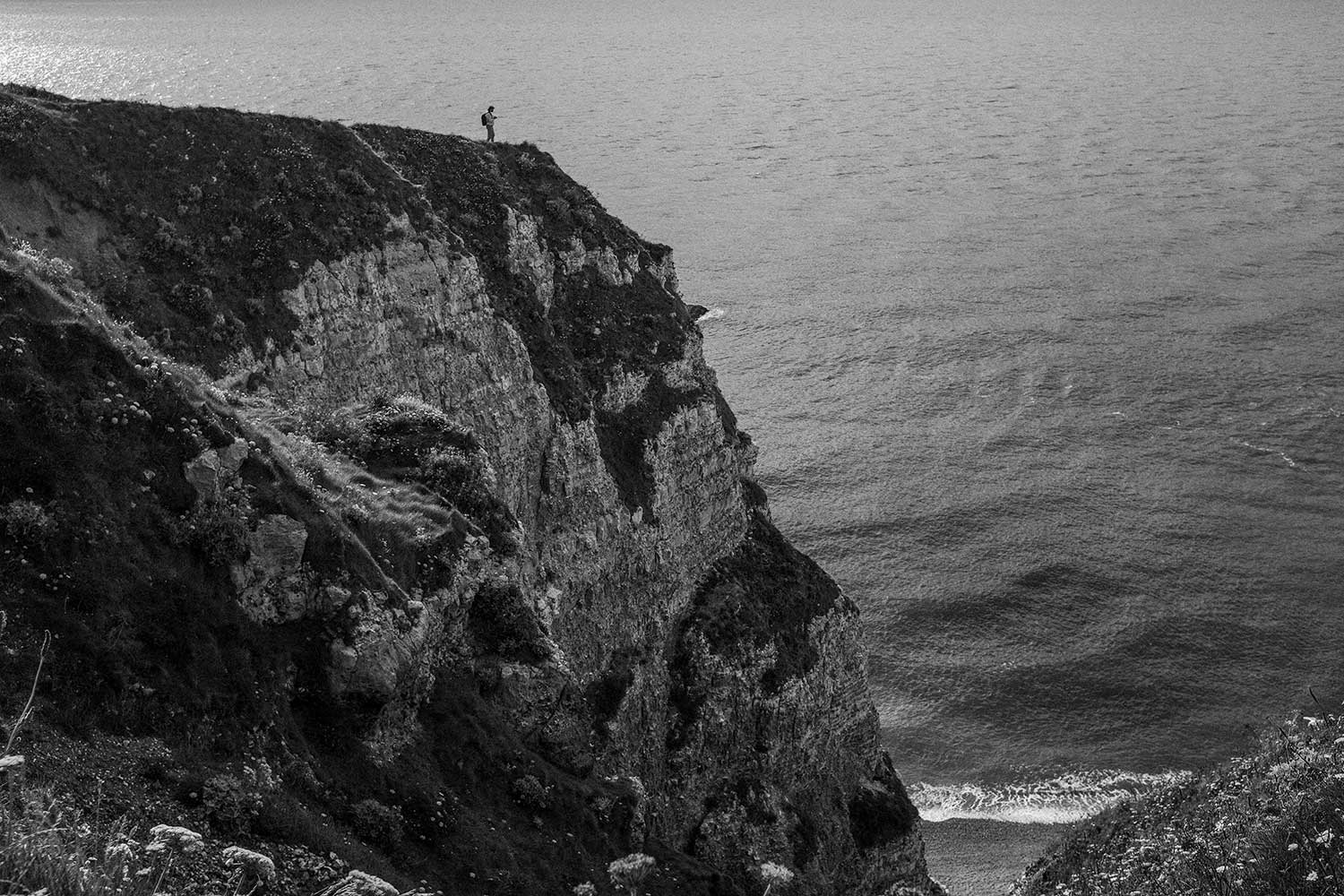 Lonely man on the rocks of Étretat
A few years ago, I went on a small trip to Normandy and Brittany. The only thing I knew about it back then was that this area played a major role in the defeat of the German army during World War II. Not knowing how friendly and beautiful this area actually is, I was mesmerized. It has so much to offer than just the war sites, and so I decided to go back and I can imagine living there for a few months too. This time, I left the historical landmarks out of the route and came across the beauty nature of Étretat. My imagination literally took off.
Shooting in black and white
After parking the car, I got my tote bag and camera. A long day of hiking across the Riffs of Étretat was planned out. My objective was not to take any serious pictures, and I had the idea to capture some moments for personal memory with my iPhone only. However, after just a few minutes while I breathe the fresh sea air, I put my iPhone back in my pocket and enjoy the area with my X100 camera in full ready mode.

I look at landscapes as fashion portraits, so my approach and style might not follow the standard rules.


When I look at a scenery, I see the contrast and imagine how it would look in black and white. Sometimes I am triggered by strange angles or natural formations, because I like to see the emotion of nature from a more personal and less grand perspective.
I have the camera set to the film simulation ACROS + R, with noise reduction and sharpening set to minus one. This gives me a more film look and creates softer, more natural noise-rich photos. Depending on the depth of the dynamic range of light in the shot, I underexpose it by one stop to increase the blacks in the image. For black and white, contrast is important, and even though I sometimes like these high-grey-toned shots, harsh lights always work well.
Cheating with raw
The Fuji X100F camera has the option to shoot in JPEG and RAW format at the same time, like most cameras. The X100's advantage is the quality of its film simulations. Which is lacking in the color profiles from my Nikon D850. After I get home and load the photos into Lightroom, I do a double edit and selection, especially for this amazing location of Étretat.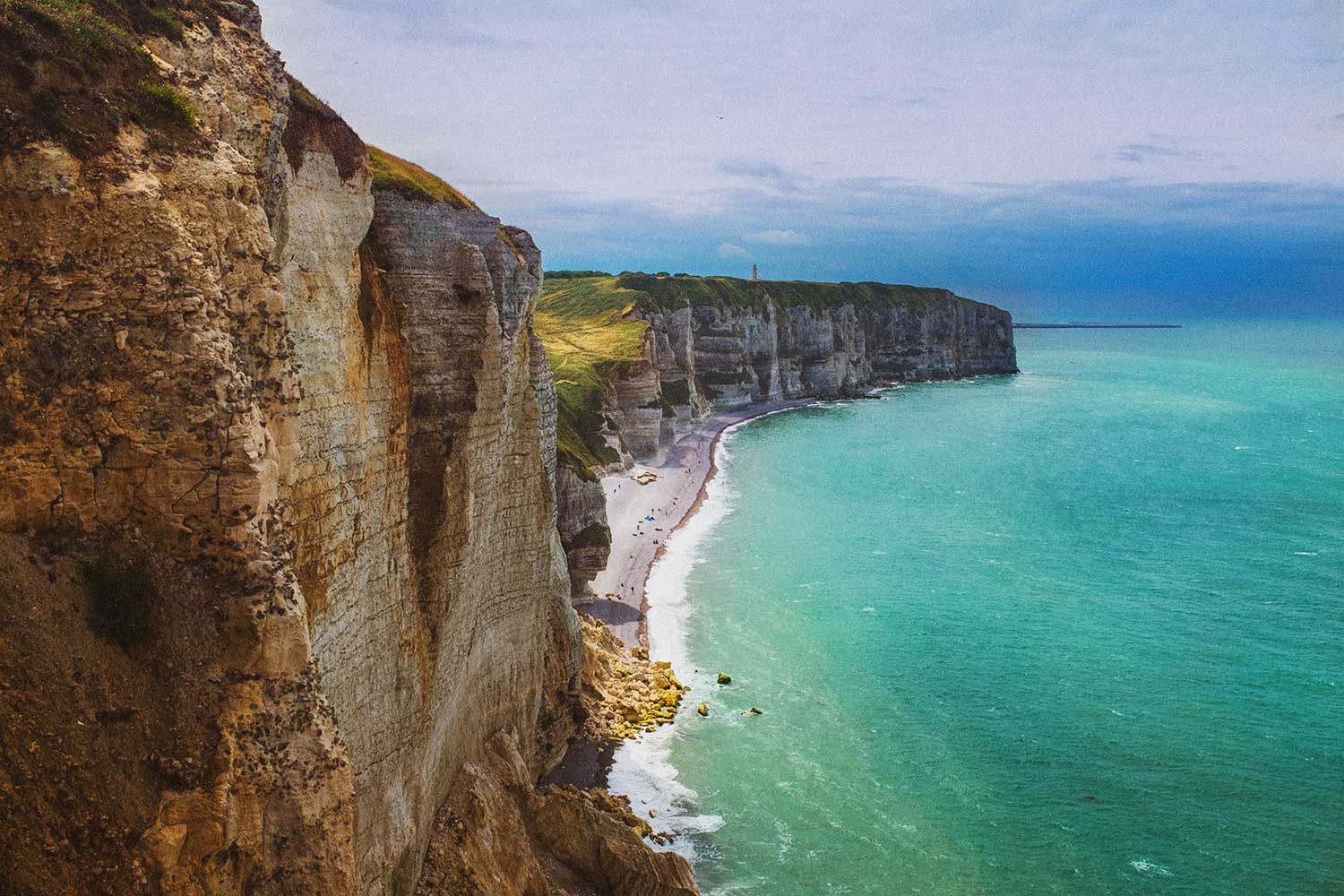 Colorful rocks of Étretat
It is impressive how much color the X100 camera can capture in the raw format. For my editing, I work with the different color parts of the image and how the light is playing with them. The raw image is still very flat and needs juice to become alive. During the day, the sun managed to break through the clouds, and just before sunset, it painted the landscape beautifully.
My final step in almost all my photo editing is to remove sharpness. I love the feel of 16mm film format, so I add a little bit of blurred noise, which gives the overall image softness while making the edges sharper. For my portraiture, this improves the overall skin texture and toning, giving it a beautiful silky feel, like we had in the 1980s.
The advantage of softening with noise is that it benefits different use cases for the photos. It looks sharp and rich on glossy paper or behind glass, while keeping the painting feel. On rough recycled paper, it is a perfect marriage of material and photo quality. The texture combination gives it a unique vintage vibe.
The X100 has a 35mm equivalent focal length, which is perfect for getting the benefit of some distortion. This distortion can make landscape photos feel massive. At the same time, it is a great focal length for a wide range of portraiture photography, which makes this camera very versatile.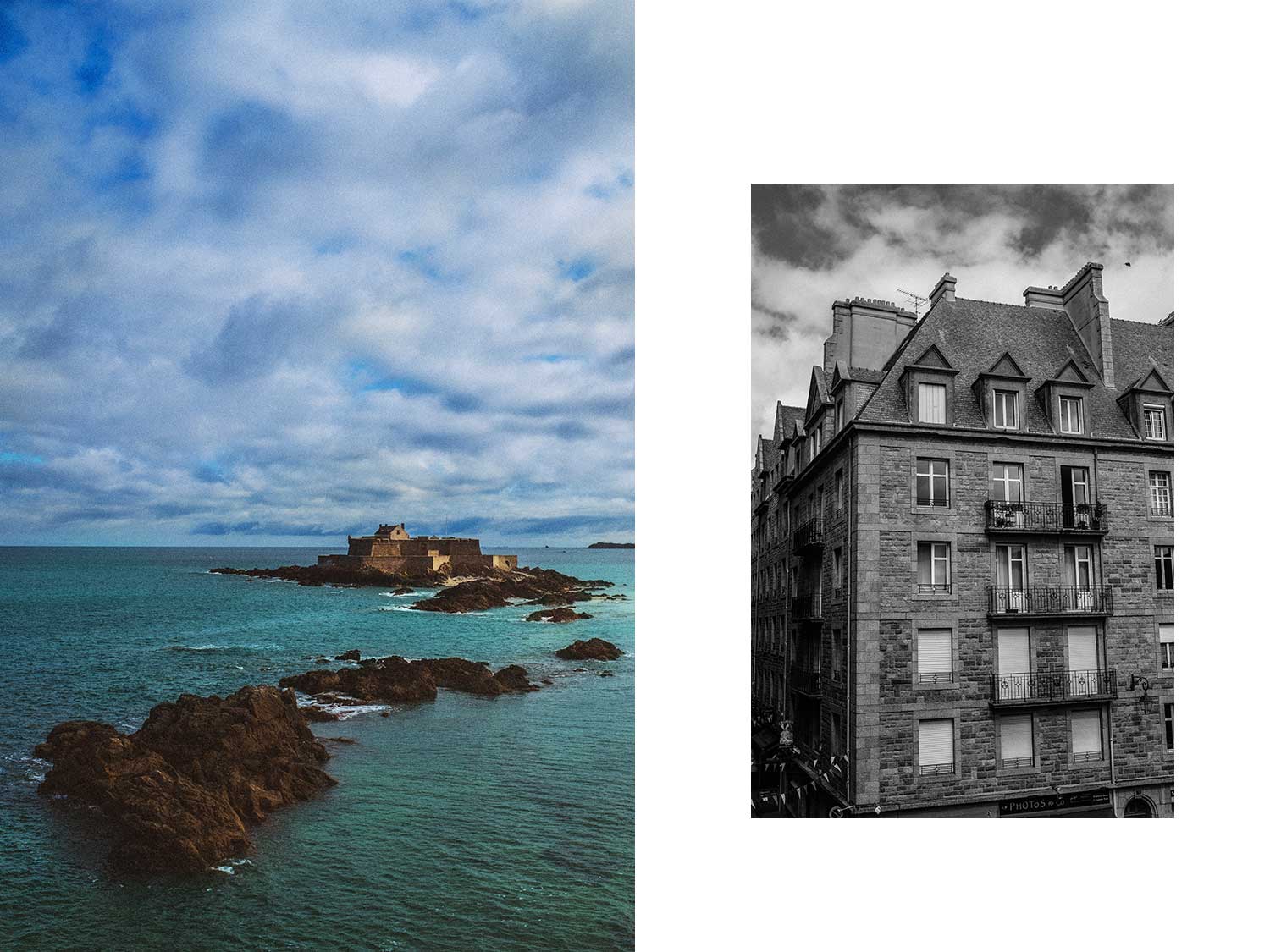 Saint Malo, France
Personality
Writing these stories about my work is a way for me to reflect on who I am, personally and as an artist. With the amount of photos and art put out in the world by so many great photographers and artists, I sometimes talk myself down, wondering if I have a place in the realm of photography. I question what my voice and style are. But slowly, with the ups and downs, and most importantly with the support of my love and closest friends, I dare to push myself more and feel proud of what I create. It has been a long journey to get where I am today, but I finally feel completely in line with all I make.
After I finish this post and schedule it to be pushed via social media, I will be shooting a new art project about beauty. I can't wait to share it with you. Please follow me on Instagram at @pasarellaphoto to keep updated about this and to see some sneak peeks in the following weeks.
Want to get your project captured with my Fuji Film camera?
Send me a message and let's set up a project to explore the unique qualities that this camera can bring in combination with our creative input.